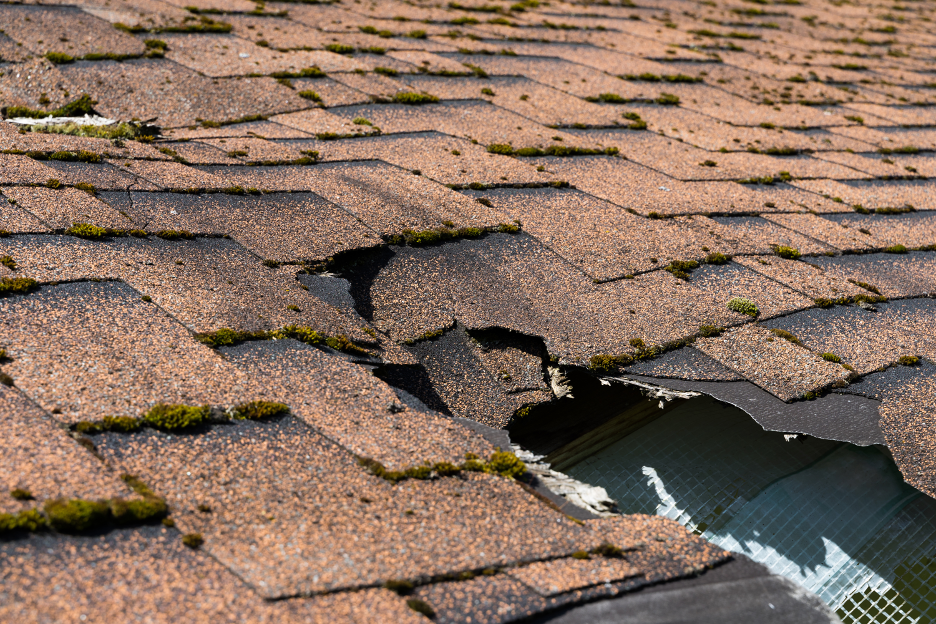 09 Jun

Five Most Common Types of Roofing Damage: Insights from a Roof Repair Company in Evergreen Park, Illinois

Asphalt shingles are the most common type of residential roofing material used throughout the Evergreen Park area. While they are incredibly cost-effective and durable, they will eventually take on damage, and they will need to be repaired.

You might be wondering: how can you tell whether your roof needs to be repaired? To give you a better idea, this roof repair company in Evergreen Park, Illinois is going to review the five most common types of roofing damage below.
Soffit and Fascia Damage
Soffit and fascia — as well as the underlying fascia board — are all components of your Evergreen Park home's roofing system. In addition to their aesthetic merits, soffit and fascia allow your home to "breathe," prevent water damage and pest invasion and provide the edges of the roof (or "eaves") with additional structural support.
Wind can rip off pieces of the fascia and soffit, and water can rot out the fascia boards. It is crucial to make the necessary repairs to prevent a more expensive roof leak.
Gutter-Related Roof Damage
Gutters are an integral part of your roofing system. Unfortunately, they are susceptible to damage themselves, and they also pose a threat to the structural integrity of your roof, home, and foundation.
When gutters are not cleaned out yearly, they may overflow and cause the fascia board to rot. Even worse — water could get inside and ruin the drywall on the ceiling or the wall. Additionally, sagging gutters can overflow, which can direct torrents of water directly at the foundation of your Evergreen Park home.
Flashing and Drip Edge Damage
Another common issue is when high-velocity winds rip up flashing, bend it, or completely tear it off. Storms and gusts of high wind commonly cause damage to the drip edge, which is simply flashing for the eaves.
Water may sneak under your shingles and wreak havoc without proper flashing in roof "valleys" and around the eaves, chimneys, and vents. If you notice any damage in these areas, you should contact a professional roof repair company in Evergreen Park, Illinois.
Rotted Roof Decking
Roofing shingles create a water barrier to protect everything below it — including what lies directly below, which is the roof deck.
Your roof deck may begin to weaken, warp, or rot if water can get below the shingles or if moisture builds up under the shingles due to problems with ventilation or overheating in the attic.
It is helpful to ensure that there is a proper roof underlayment between the deck and the shingle. Using quality roofing materials and professional installation can also help prevent damage to the roof deck.
If you notice roof-deck damage, you should call a roof repair company in Evergreen Park, Illinois as soon as possible. They will be able to remove the shingles in the affected area and re-roof that whole area to prevent further damage.
Shingle-Related Roof Repairs
The scorching heat of summer can be tough on the shingles. Shingles may become warped, bubbled, brittle, or break and fall off over time. The wind might rip off shingles that were already weakened. Heavy rainstorms can also cause roof leaks by exploiting any weak spots created by climate and weather occurrences.
An occasional bout of hail can irreparably damage the integrity of a shingle, thus reducing its life. In addition, debris carried by the wind during a hurricane or tree limbs that break off in a storm can cause significant damage to the shingles and the structure of the roof itself. If you're ever looking for an emergency roof repair company in Evergreen Park, Illinois, you can get in touch with the team at Midwest Pro Roofing 24/7.
Looking for the Best Roof Repair Company in Evergreen Park, Illinois?
Is your roof showing signs of damage? If so, and if you're looking for the best roof repair company in Evergreen Park, Illinois, Midwest Pro Roofing is the company to call. Regardless of the type of roofing damage you're dealing with, we can provide a quick and effective solution. Contact us today at (773) 528-8000 to request a free quote.